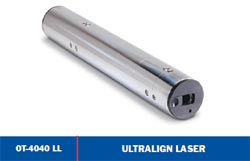 Internal Fiber-Coupled Laser Diode.
No-compromise performance to 300 feet.
Beam centration of; 0.002 inches.
Pulsed at 10 Hz - allows target to be totally unaffected by ambient light.
Power. An internal rechargeable NiMH battery pack provides 24 hours of continuous use. You can also power the laser using the standard AC wall charger (which simultaneously recharges the batteries).
Low Power Indicator. Illuminates when the battery pack is low and recharging is necessary.
Tapered NAS Mount. A chrome-plated stainless steel NAS Mount, slightly tapered near the front of the laser, ensures instant integration into any standard NAS tooling sphere mount.