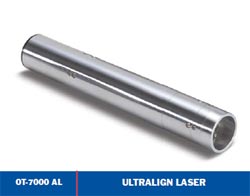 Internal Fiber-Coupled Laser Diode.
No-compromise performance to 300 feet.
Beam centration of ± 0.002 inches.
Pulsed at 500 Hz - allows target to be totally unaffected by ambient light.
Internal Motion Controllers. Internal motion controllers within the laser head automatically realign the laser to the reference target center.
Tapered NAS Mount. Made from chrome-plated stainless steel, the NAS Mount is slightly tapered near the front of the laser for easy insertion into NAS tooling sphere mounts.