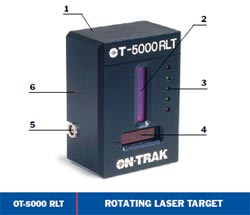 Enclosure. Made from durable custom-machined aluminum.
Capture Height. 1.2 inches.
Calibration. The RLT is electronically centered and calibrated. This information is stored in non-volatile memory so the target can be rotated 180 degrees around the center locating dowel pin to maintain zero.
The detector is centered within the enclosure and works both in the horizontal and vertical position.
Accuracy And Linearity. The accuracy of the beam striking the detector is ± 0.001 inches. The linearity of the detector is 0.1%. Overall measurement range is determined by the detector's length minus the laser's beam diameter.
Laser Strike Indicators. Three individually colored LEDs provide visual confirmation of the beam position relative to the target. This user-programmable feature comprises the following:

Green indicates the beam is dead center.
Yellow indicates the beam is within acceptable range.
Red indicates the beam is out of range.

Built-In Position Display. A ± 4-digit red LED display provides readout of real-time position information. Large digits ensure easy viewing - even from many feet away.
Lemo Connectors. In/out Lemo connectors enable easy RS-485 multi-drop daisy chain configuration.